Where: Nepal.
Why/Whom/When:
In 1976-7 Welshman David Durkan travelled through Europe, Turkey, Iran, Afghanistan, Pakistan, India and Nepal. Along the road he observed foreign aid projects which, he felt, could be enhanced with just a little extra assistance. An idea turned into practice, in Nepal he helped his trekking porter establish a small business. The buisness flourished and the porter paid back the loan. A lesson was learnt.
By 1979/80 he was back leading trekking groups, and contributing 30% of earnings to various projects. First came a school roof, then a teacher's wage, then wood-saving kitchen stoves (sold at cost), securing a Gamma bag for the Himalayan Rescue Association, medicine for health posts, books for schools…. The list grew.
In 1985 he met Karma Gjelgen Sherpa, who with friends had started to build a school in their village, Syangma-Tati. Due to lack of funds, the work had stopped. Over mugs of sugary tea, and pots of chang (beer), they agreed to build a school together.
The master plan: the village would provide the land, complete the foundations, and dig the stone out of the local hillside. David was to come back and "fix the rest".
Six months later a simple postcard arrived from Karma: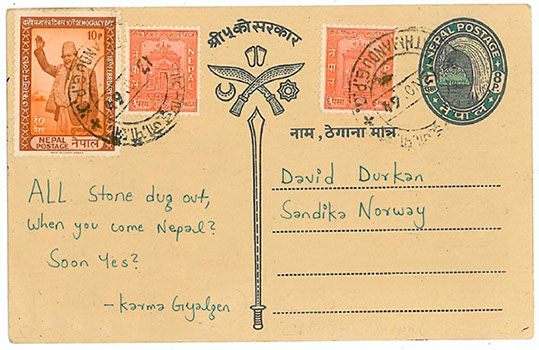 "All stone dug out, when you come Nepal? Soon yes?"
That autumn he purchased 250 kilos of roof sheeting and glass for the windows in Katmandu, hired a builder, and by local bus freighted everything to Jiri. Here with 10 hired porters they started the 8-day walk and 6 weeks' later the school was completed.
Why was there a need for a school in Syangma-Tati?
The nearest school was a 2-hour walk away, along poor and partly dangerous paths. Therefore children did not start school until they were 10 or 12 years of age, leaving them 3 to 5 years behind in their education. Usually girls did not go to school, nor did the children of poorer families.
The aim was to build a school so children could attend class 1 to 3 in the village, and then go to Lukla at the same age and educational standard as the other children.
Today, over twenty years' later, the children have achieved good basic educational levels. Some have stayed in the village, working as farmers; some work in the tourist and expedition industry. Others have taken higher education and some have emigrated to the USA. They in turn have contributed to the village development. Some who live in Colorado financed a new bridge - joining the two sides of the valley.
In 2005, David's 15 years old son, Fillip, met Karma's son, Phurba in Lukla, and Purba said:

"Our fathers did not build a very good school, it was damp, small & dark. The village needs a new one."

(First School: Damp, dark, small and cold).
Friends helped. Norwegian polar explorers BÝrge Ousland and Ragnar Lien hosted a slide show on their trip to the North Pole - all income went to the school.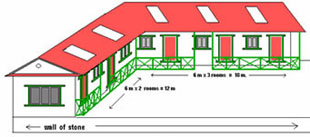 David's employers, Bergans of Norway, matched this with an equal amount. Phurba came with a design for the school, and started the process. Uttam Phuyal, President of the Lions Club of Katmandu Sukunda, took the unpaid job of managing the project. A master builder, Ram Prasad Thapa Magar was employed along with a workforce of 5. Additionally, each household in the village contributed to the project by working for free. The building site was cleared, new foundations dug, and rock was dug out of the mountainside. The villagers dismantled the old school piece by piece, sorting the stones and wood, so nearly all the material could be reused. Uttam purchased 755 kilos of new roofing and glass for the windows. Yeti Air flew this into Lukla, and local porters carried it to the site - 8 weeks later the school was complete.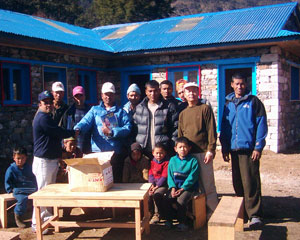 An idea now evolved into an organisation: "it is no good just building, we need to provide continuity". Uttam was appointed as Manager, and within a few weeks other projects appeared out of nowhere.
In 2010 we changed our name from Shrinking Horizons to Mountain People - helping mountain people to help themselves.